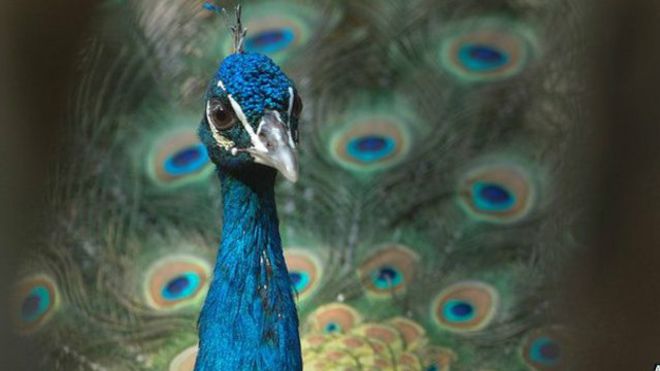 Jimbo moja nchini India limependekeza kumuorodhesha tausi miongoni mwa ndege waharibifu ,kulingana na vyombo vya habari.
Waziri wa kilimo katika eneo la Goa Ramesh Tawadkar amesema kuwa tausi wanaharibu mimea na huenda wakakatwa midomo.
Tumbili,Ngiri pia watakatwa mdomo katika mpango huo.Upungufu wa misito katika eneo la Goa umepunguza kuwepo kwa maneo ya kujificha wanyama pori ambao sasa wanakimbiliana katika makaazi ya binaadamu.
Bwana Tawadkar amesema kuwa kamati imebuniwa kuona athari za ndege hao pamoja na wanyama wengine.
''Baadhi ya wakulima wamesema kuwa tausi uharibu mimea katika mashamba yaliopo katika maeneo ya milima,''alikiambia chombo cha habari cha India.
Wanyama hao kwa sasa wanalindwa kwa mujibu wa sheria za mwaka 1972 za wanyama pori nchini India.
Waziri huyo amesema kuwa anajua kuhusu hadhi ya ndege huyo,lakini akasisitiza kwamba serikai itafuata utaratibu ambapo ndege huyo huenda akaorodheshwa miongoni mwa wanyama waharibifu.
Hi all. This is deepak from Bthemez. We're providing content for Bold site and we've been in internet, social media and affiliate for too long time and its my profession. We are web designer & developer living India! What can I say, we are the best..