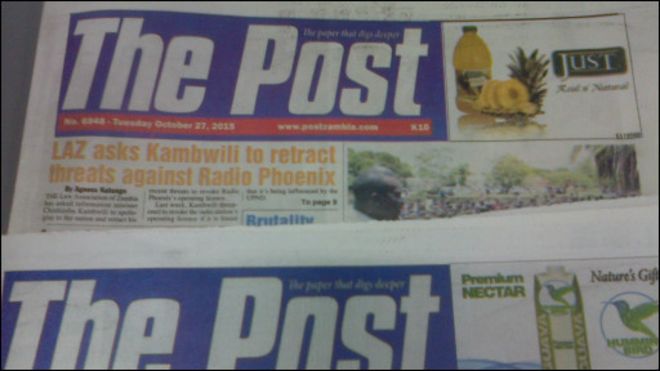 Gazeti la The Post linadaiwa kuwa na deni la kodi ya mamiilioni ya dola
Polisi nchini Zambia imemkamata Mhariri wa Gazeti kuu nchini humo,sambamba na mke wake pamoja na naibu Mhariri mtendaji.
Juma lililopita mamlaka nchini humo ililifungia Gazeti la The Post ikisema linadaiwa kodi ya mamilioni ya Dola.
Uongozi wa gazeti hilo unadai kuwa hakuna kodi inayodaiwa na serikali huku wakitaja kitendo hicho kuwja aribio la kutaka kuzuia uhuru wa habari wakati huu wa kuelekea uchaguzi mkuu mwezi wa nane.
Watu hao watatu walikamatwa walipoingia katika ofisi kuu za gazeti hilo mjini Lusaka.Pamoja na mashtaka mengine, wanatuhumiwa kufanya uhalifu.BBC
Hi all. This is deepak from Bthemez. We're providing content for Bold site and we've been in internet, social media and affiliate for too long time and its my profession. We are web designer & developer living India! What can I say, we are the best..