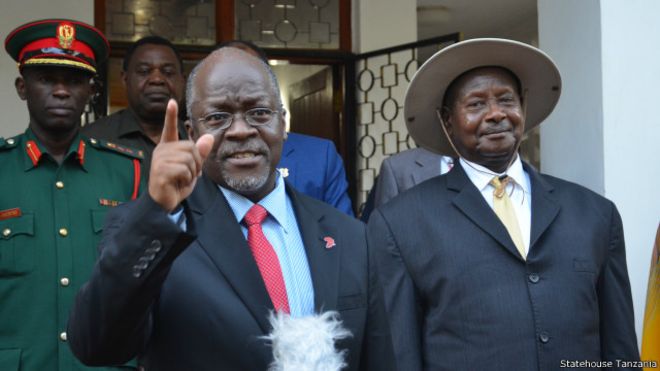 Kampuni inayotarajiwa kufanikisha ujenzi wa bomba la mafuta kutoka bandari ya Tanga hadi nchini Uganda imesema iko tayari kuanza ujenzi huo.
Makamu wa Rais wa kampuni ya Total Afrika Mashariki Bw Javier Rielo amemwambia Rais wa Tanzania John Magufuli, kuwa kampuni hiyo itaanza ujenzi huo haraka iwezekanavyo, kwa kuwa fedha za kutekeleza mradi huo zipo.
Mradi huo utahusisha ujenzi wa bomba lenye urefu wa kilometa 1,410 ambalo litasafirisha mafuta ghafi kutoka ziwa Albert nchini Uganda hadi Bandari ya Tanga.
Utarajiwa kuzalisha ajira za moja kwa moja 1,500 na ajira zisizo za moja kwa moja 20,000.
Rais Magufuli ameitaka kampuni hiyo kuharakisha mchakato wa kuanza kwa mradi, na kupendekeza muda wa miaka mitatu uliopangwa kuukamilisha mradi huo upunguzwe, ili manufaa yake yaanze kupatikana mapema.
Waziri wa Nishati na Madini Prof Sospeter Muhongo, Tanzania pia inatarajia kunufaika zaidi na bomba hilo, kwa kuwa kuna tafiti mbili za mafuta zinazoendelea katika ziwa Tanganyika na katikati mwa Tanzania.
Amesema zikikamilika kwa mafanikio, inatarajiwa bomba hilo litasaidia kusafirisha mafuta yake.
Makubaliano ya kujengwa kwa bomba hilo yaliafikiwa wakati wa mkutano kati ya Rais Magufuli na Rais wa Uganda Yoweri Museveni mapema mwezi huu.
Hi all. This is deepak from Bthemez. We're providing content for Bold site and we've been in internet, social media and affiliate for too long time and its my profession. We are web designer & developer living India! What can I say, we are the best..