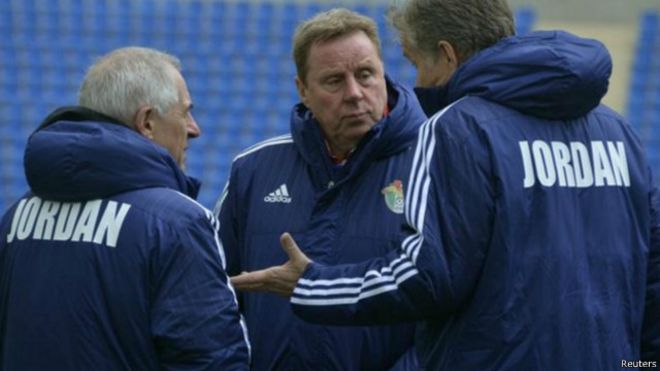 Timu ya taifa ya Jordan ilipata ushindi mkubwa wa mechi yao ya kwanza chini ya meneja wao mpya wa muda Harry Redknapp.
Timu hiyo ililaza Bangladesh 8-0 kwenye mechi ya kufuzu Kombe la Dunia iliyochezwa Alhamisi uwanja wa Amman.
Mshambuliaji wa klabu ya Al-Kuwait Hamza Al-Dardour alifunga mabao matatu kipindi cha kwanza na kusaidia vijana hao wa Redknapp kuongoza 5-0 wakati wa mapumziko.
Jordan wamo nambari mbili katika kundi B lenye mataifa matano, wakiwa alama mbili nyuma ya Australia, ambao wanawasubiri mjini Sydney tarehe 29 Machi.
Watahitajika kulaza Socceroos ili kufika raundi ya tatu ya kufuzu kwa fainali za Urusi mwaka 2018 katika bara Asia.
Redknapp, aliyekuwa meneja wa Tottenham, alikubali kuwaongoza Jordan kwa mechi mbili za mwisho za kundi lao.
Mapema wiki hii hata hivyo alisema yuko radhi kuendelea kuwakufunza.
Hi all. This is deepak from Bthemez. We're providing content for Bold site and we've been in internet, social media and affiliate for too long time and its my profession. We are web designer & developer living India! What can I say, we are the best..