Mshambuliaji matata kutoka Sweden Zlatan Ibrahimovic amesema kwamba kuna uwezekano mkubwa kwake kuondoka Paris St-Germain majira ya joto yajayo.
Hii ni baada yake kuwasaidia kutwaa ubingwa mara nne mtawalia Jumapili.
Ibrahimovic alifunga mabao manne na kuisaidia PSG kulaza Troyes 9-0 na kutwaa ubingwa wa Ligue 1 zikiwa zimesalia mechi nane.
Mchezaji huyo wa umri wa miaka 34 aliambia beIN Sports: "Kwa sasa (mambo yalivyo ni kwamba), sitakuwa PSG msimu ujao. Bado nina mwezi mmoja unusu wa kukaa hapa.
"Wakibadilisha mnara wa Eiffel na badala yake waweke sanamu yangu, basi nitakaa."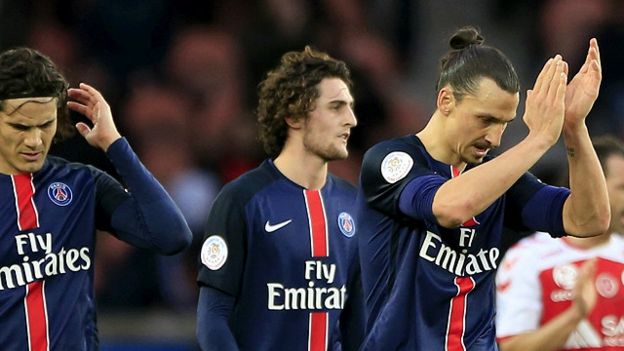 Ibrahimovic amekuwa akihusishwa na kuhamia Manchester United pamoja na Ligi Kuu ya Soka ya Marekani na Canada (MLS).
Rais wa PSG Nasser Al-Khelaifi alisema anataka sana Ibrahimovic asalie baada ya mkataba wake kumalizika Juni.
Ibrahimovic amefunga mabao 27 katika mechi 24 msimu huu na kwa jumla amefunga mabao 102 katika ligi kuu Ufaransa.
Hi all. This is deepak from Bthemez. We're providing content for Bold site and we've been in internet, social media and affiliate for too long time and its my profession. We are web designer & developer living India! What can I say, we are the best..