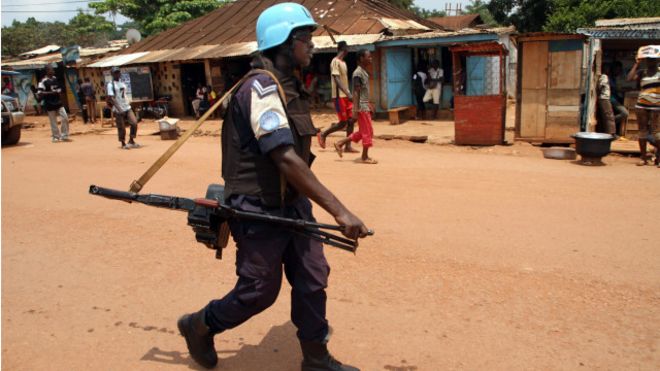 Zaidi ya askari 100 wanaolinda amani wa umoja wa mataifa watarudishwa makwao kutoka nchini Jamuhuri ya Afrika ya kati baada ya kufanyika uchunguzi kuhusu shutuma dhidi yao kuhusu unyanyasaji wa kingono
Umoja wa mataifa umesema unachunguza ripoti mpya nane kuhusu unyanyasaji huo,kufuatia kesi za malalamiko 20.
Binti wa miaka 14 alisema kuwa alibakwa na Mwanajeshi mwenye silaha karibu na Uwanja wa Ndege.
Wanajeshi 120 watakaorudishwa nyumbani ni kutoka Congo-Brazzaville.Wakati wa uchunguzi watabaki ndani ya kambi.
Juma lililopita Umoja wa Mataifa ulisema vikosi vya Ulaya walionekana kuhusishwa kwenye shutuma za udhalilishaji wa kingono.
Mjumbe wa umoja wa mataifa nchini Jamuhuri ya Afrika ya kati Parfait Onanga-Anyanga alikwenda mjini Bambari mji wa pili kwa ukubwa ambapo udhalilishaji huo ulitekelezwa.
Shirika linalotetea haki za binaadam Human Rights Watch wamesema uhalifu huo ulifanyika wakati wanajeshi hao wa Congo walipopelekwa kulinda amani kwa muda kwenye uwanja wa ndege.
Juma lililopita, UN ilisema wasichana wa umri kati ya miaka 14 na 16 walidaiwa kubakwa na wanajeshi raia wa Georgia wanaowakilisha majeshi ya umoja wa ulaya nchini jamuhuri ya Afrika ya kati.
Mtoto wa miaka saba wa kike na wa kiume mwenye miaka tisa wamesema walidhalilishwa na wanajeshi wa Ufaransa.
Hi all. This is deepak from Bthemez. We're providing content for Bold site and we've been in internet, social media and affiliate for too long time and its my profession. We are web designer & developer living India! What can I say, we are the best..