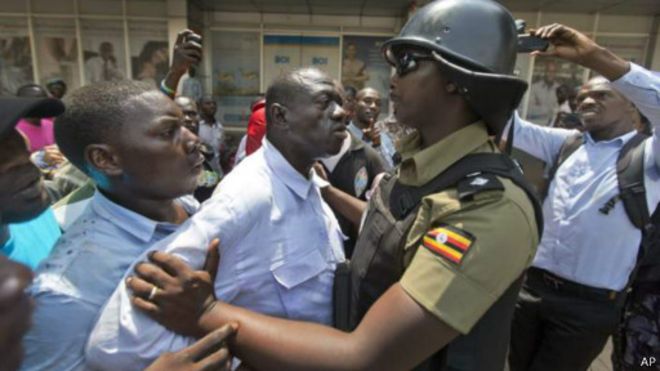 Mgombea urais wa chama cha upinzani cha FDC nchini Uganda Kizza Besigye amekamatwa na kuzuiliwa kwa muda na maafisa wa polisi mjini Kampala.
Gari lake lilikuwa likipitia barabara ya Jinja, mjini Kampala, msafara wake ukisindikizwa na mamia ya wafuasi, pale polisi walipotumia mabomu ya machozi kuwatawanya wafuasi hao na wakamkamata mwanasiasa huyo.
Alizuiliwa kwa muda katika kituo cha polisi cha Kira Road lakini akaachiliwa huru bila kufunguliwa mashtaka.
Polisi wanasema alikamatwa kwa sababu ya kutatiza uchukuzi mjini.
Bw Besigye alipangiwa kufanya mikutano ya kampeni katika mji huo mkuu.
Mkuu wa Polisi Jenerali Uganda Kalekezi Kayihura amethibitisha kwamba polisi walikabiliana na wafuasi wa upinzani lakini akakanusha habari kwamba Bw Besigye amekamatwa.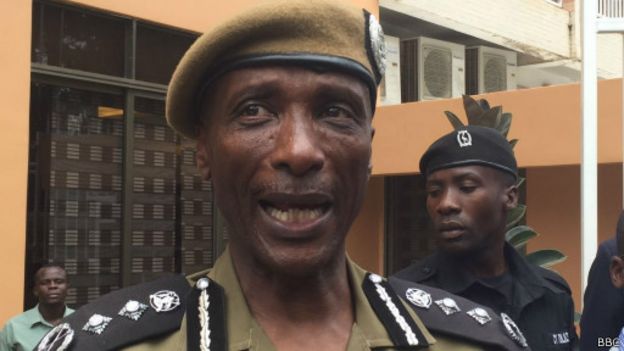 Msemaji wa polisi Fred Enanga amesema Bw Besigye alikaidi agizo la polisi la kutoingia katikati mwa mji na ndio maana akakamatwa.
"Besigye yuko huru kufanya kampeni mjini Kampala lakini sharti atii maagizo ya Tume ya Uchaguzi na Polisi ambayo yanaharamisha siasa katikati mwa jiji," ameambia wanahabari.
Amesema alizuiwa kwa muda kutumia barabara ya Nasser na kwamba polisi walimzuilia wakihofia usalama wake baada ya kushindwa kudhibiti umati.
Hali ya wasiwasi ilitanda katika maeneo ya Kampala huku polisi wakitumia mabomu ya machozi kuwatawanya watu. Watu kadha walikamatwa.
Baada ya kuachiliwa, kiongozi huyo wa upinzani aliruhusiwa kuendelea na kampeni zake hadi chuo kikuu cha Makerere huku polisi wakiendelea kushika doria.
Bw Besigye, alikuwa wakati mmoja daktari wa kibinafsi wa Bw Museveni, amekamatwa na kuzuiliwa mara nyingi lakini Jumatatu ilikuwa mara ya kwanza kukamatwa wakati wa kampeni za uchaguzi wa mwaka huu.
Uchaguzi huo utafanyika Alhamisi.
Bw Besigye amewania urais mara tatu dhidi ya Bw Museveni bila mafanikio.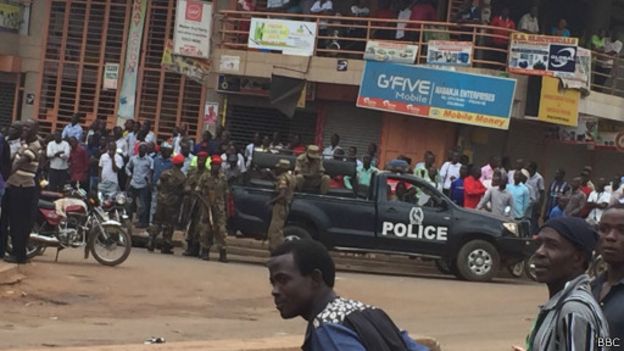 Hi all. This is deepak from Bthemez. We're providing content for Bold site and we've been in internet, social media and affiliate for too long time and its my profession. We are web designer & developer living India! What can I say, we are the best..