Kundi la wapiganaji wa Kiislamu la Al-Shabab kutoka Somalia limesema ndilo lililoshambulia ndege iliyotoboka shimo ikiwa angani mapema mwezi huu.
Kupitia taarifa iliyotumwa kwa barua pepe al-Shabab wamesema shambulio hilo lilikuwa la kulipiza kisasi operesheni za kijasusi zinazoendeshwa na mataifa ya Magharibi nchini Somalia.
Shimo hilo kwenye ndege hiyo lilitoboka muda mfupi baada ya ndege hiyo kupaa kutoka Mogadishu, ikiwa futi 10,000 (3,048m) juu angani.
Ndege hiyo ilifanikiwa kutua kwa dharura.
Ndege hiyo ya shirika la ndege la Daallo, iliyokuwa ikielekea Djibouti, ilikuwa imebeba watu karibu 60.
Maafisa nchini Somalia baadaye
walitoa video inayoonesha watu wawili
wakimkabidhi abiria mmoja anayeshukiwa kuwa mlipuaji wa kujitolea mhanga kitu kinachoonekana kama Laptop kabla ya mlipuaji kuabiri ndege hiyo.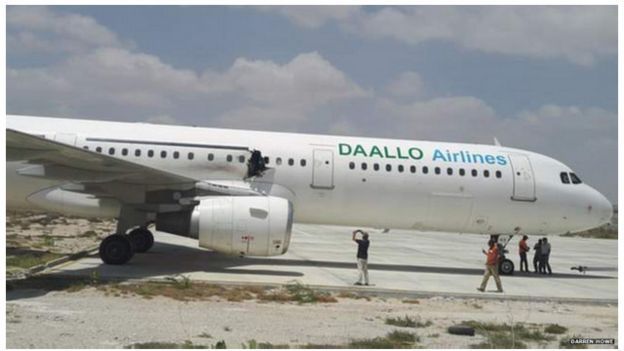 Msemaji wa serikali anasema kuwa watu hao ndio washukiwa wakuu katika ulipuaji huo.
Watu 20 wamekamatwa wakiwemo wale wawili walionaswa kwenye video hiyo.
Hi all. This is deepak from Bthemez. We're providing content for Bold site and we've been in internet, social media and affiliate for too long time and its my profession. We are web designer & developer living India! What can I say, we are the best..