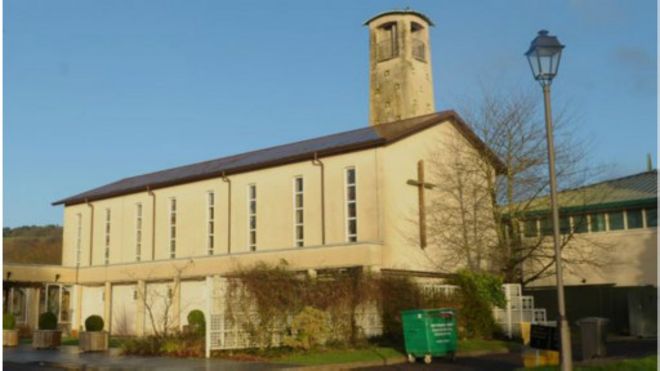 Uchunguzi unaendelea baada ya picha ya ngono kuonyeshwa katika televisheni wakati wa maombolezi ya baba na mwanawe.
Ibada ya Simon Lewis mwenye umri wa miaka 33 na mwanawe ilifanyika katika eneo la kuchoma maiti la Cardiff Thornhill siku ya Jumatano.
Kiongozi wa ibada hiyo Lionel Fanthorpe alisema kwamba kisa hicho kiliwaacha waombolezaji wakiwa wamekasirika na mamlaka ya Cardif ikaomba msamaha kwa familia kwa kisa hicho kisicho cha heshima.
Bwana Lewis na mwanawe walifariki kufuatia ajali mjini Cardif katika siku ya mkesha wa mwaka mpya.
Chombo cha habari cha Media Wale kiliripoti madai kutoka kwa muombolezaji ambaye hakutaka jina lake lijulikane kwamba picha za ngono zilionekana katika runinga hiyo.
Runinga nne zilitumika kuonyesha risala za rambi rambi na baraza hili lilisema kuwa televisheni ilioonyesha picha hizo chafu ilikuwa imewekwa hivi majuzi.
''Tunajaribu kubaini iwapo runinga hiyo mpya ambayo ni aina ya smart tv huenda ilinasa picha hizo kwa bahati mbaya kupitia bluetooth ama kupitia wavu wa Wi-fi,''alisema msemaji.
Hi all. This is deepak from Bthemez. We're providing content for Bold site and we've been in internet, social media and affiliate for too long time and its my profession. We are web designer & developer living India! What can I say, we are the best..